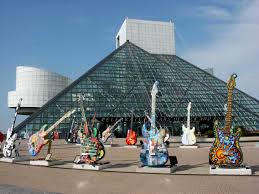 Ohio was admitted to the Union as the 17th state (and the first under the Northwest Ordinance) on March 1, 1803. It takes its name from the Ohio River. The name originated from the
Iroquois word
ohi-yo, meaning great river or large creek. Historically, Ohio is known as the
Buckeye State
after its Ohio buckeye trees, and Ohioans are also known as Buckeyes.
Cleveland, Ohio is the site of the
rock and roll hall of fame,
a destination known around the world. And, Ohio is the focus of a song written by Neil Young, who was first inducted into the hall of fame in 1995. The song Ohio tells of the shooting deaths at
Kent State
on May 4, 1970.
There's lots to learn about the great State of Ohio. Before too long, we're hoping that our
Flash-Card Travel
project will be the top destination on the Internet for people to learn about Ohio before travelling there.
We believe that, if people learn about a destination before travelling there, they enjoy their trip a lot more and will
talk about it
long after they return home. Flash-Cards make it very quick & easy to keep facts fresh in your mind. The longer facts stay fresh, the longer people will keep talking about their trip to Ohio!
The
Flash-Card Ohio
domain name will be the direct path into our
Flash-Card Mania
Web APP. Will you be the one to purchase this domain,or will one of your competitors beat you to it?
Check Out Flash-Card Travel!